Hauptseminar: Advances in Image Processing and Computer Vision

Prof. Joachim Weickert, Oliver Demetz

Winter Term 2013/2014
Seminar (2 h)
Notice for bachelor/master students of mathematics: This is a »Hauptseminar« in the sense of these study programs.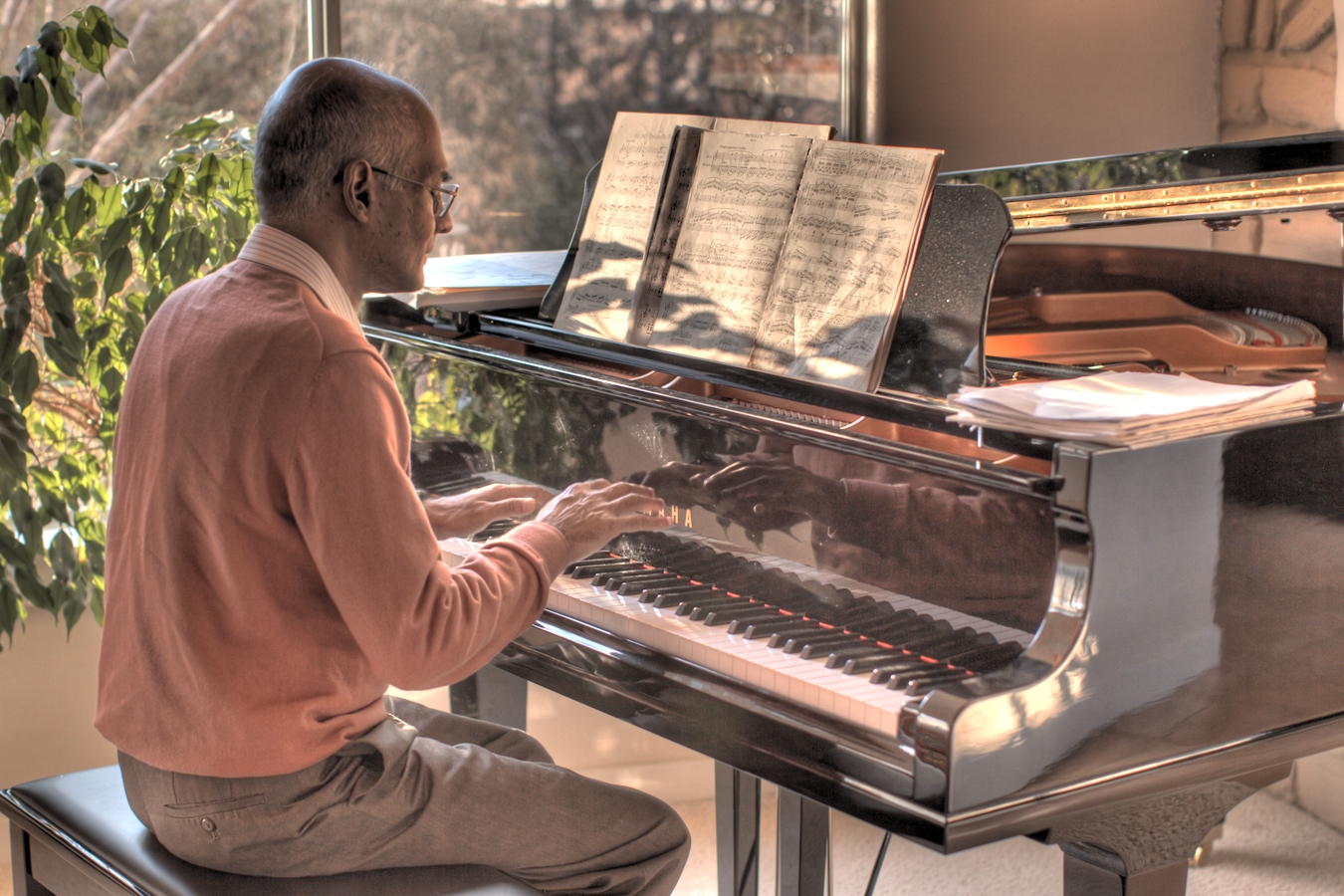 tonemapped HDR reconstruction of a dynamic scene [1].
---
Important Dates – Description – Registration – Requirements – Overview of Topics
---
Introductory meeting (mandatory):
Our introductory meeting took place on Wednesday, July 24, 2013, 16:15h, Building E1.7, Room 4.10.

The registration period is over.
Regular meetings during the winter term 2012/2013: Tuesdays, 16:15h. Building E1.7 Room 008

Date of first regular meeting: Tuesday, October 29, 2013
Last meeting (planned): Tuesday, January 14, 2014
Write-up submission deadline: February 28, 2014, 12:00h pm (midday)
Contents: In this seminar, we want to discuss interesting scientific papers from the field of image processing and computer vision. We will offer a balanced mixture between recent conference or journal publications and well-known, established concepts and methods.
The topics include but are not limited to image acquisition, image denoising and inpainting, sparse data representation, computer vision, optic flow and 3-D reconstruction.
Prerequisites: The seminar is for advanced bachelor or master students in Visual Computing, Mathematics or Computer Science. Basic mathematical knowledge (e.g. Mathematik für Informatiker I-III) is required, and some knowledge in image analysis is recommended.
Language: All papers are written in English, and English is the language of presentation.
You had to register for this course.
The registration period is over. You could register for this course
from Friday, July 19, 2013, 16:00h
to Tuesday, July 23, 2013, 15:15h.

Since the number of talks is limited, we ask for your understanding that participants had to be considered strictly in the order of registration – no exceptions.
Regular attendance: You must attend all seminar meetings, except for provable important reasons (medical certificate).
Talk: Talk duration is 30 min, plus 15 min for discussion. Please do not deviate from this time schedule.
You may give a presentation using a data projector, overhead projector or blackboard, or mix these media appropriately. Your presentation should be delivered in English. Your slides and your write-up, too, should be in English.
Write-up: The write-up has to be handed until Friday, February 28, 2014 12:00h pm (midday). The write-up should summarise your talk, about 5 pages per speaker will be adequate in most cases. Electronic submission is preferred. File format for electronic submissions is PDF – text processor files (like .doc) are not acceptable. Adhere to the standards of scientific referencing: Quotations and copied material (such as images) must be clearly marked as such, and a bibliography is required. Do not forget to hand in your writeup, because participants that do not submit a writeup cannot obtain the certificate for the seminar!
Mandatory consultation: Talk preparation has to be presented to your seminar supervisor no later than one week before the talk is given. It is your responsibility to approach us timely and make your appointment!
No-shows: In case you do not appear to your scheduled talk, we reserve the right to exclude you from all future seminars of our group.
Participation in discussions: The discussions after the presentations are a vital part of this seminar. This means that the audience (i.e. all paricipants) poses questions and tries to find positive and negative aspects of the proposed idea. This participation is part of your final grade.
Being in time: To avoid disturbing or interrupting the speaker, all participants have to be in the seminar room in time. Participants that turn out to be regularly late must expect a negative influence on their grade.
We plan to discuss the following papers. If your registration was successful, the password will be sent to you before the first meeting.
No.
Date
Speaker
Paper
Supervisor
1
29.10.2013
Sinan Bozca
Perona / Malik:
Scale Space and Edge Detection Using Anisotropic Diffusion.
Paper - Slides
J. Weickert
2
29.10.2013
Simon Heinzel
Nordström:
Biased Anisotropic Diffusion -- a Unified Regularization and Diffusion Approach to Edge Detection.
Paper - Slides
J. Weickert
3
05.11.2013
Giannis Kalofolias
Geman / Geman:
Stochastic Relaxation, Gibbs Distributions, and the Bayesian Restoration of Images.
Paper - Slides
J. Weickert
4
05.11.2013
Hui Men
Ram / Elad / Cohen:
Image Processing using Smooth Ordering of its Patches
Paper - Slides
O. Demetz
5
12.11.2013
Alexander Scheer
Elad / Aharon:
Image Denoising Via Sparse and Redundant Representations Over Learned Sparse Dictionaries
Paper - Slides
O. Demetz
6
12.11.2013
Lilli Kaufhold
Dabov / Foi / Katkovnik / Egiazarian:
Image denoising by sparse 3D transform-domain collaborative filtering
Paper - Slides
O. Demetz
7
19.11.2013
Chris Baumann
Frankot / Chellappa:
A Method for Enforcing Integrability in Shape from Shading Algorithms.
Paper - Slides
J. Weickert
8
19.11.2013
Michél Biertz
Lowe:
Distinctive Image Features from Scale-Invariant Keypoints
Paper - Slides
J. Weickert
9
26.11.2013
Zornitsa Kostadinova
Zabih / Woodfill:
Non-parametric local transforms for computing visual correspondence
Paper - Slides
O. Demetz
10
26.11.2013
Mayur Bhamborae Jayaram
Gennert / Negahdaripour:
Relaxing the Brightness Constancy Assumption in Computing Optical Flow
Paper - Slides
O. Demetz
11
03.12.2013
Quynh Nguyen
Xu / Jia / Matsushita:
Motion Detail Preserving Optical Flow Estimation
Paper - Slides
O. Demetz
12
03.12.2013
Rajarshi Biswas
Chen / Jin / Lin / Cohen / Wu:
Large Displacement Optical Flow from Nearest Neighbor Fields
Paper - Slides
O. Demetz
13
10.12.2013
Banafsheh Sadry
Demetz / Hafner / Weickert:
The Complete Rank Transform: A Tool for Accurate and Morphologically Invariant Matching of Structures
Paper - Slides
O. Demetz
14
10.12.2013
Özgün Cicek
Thirion:
Image Matching as a Diffusion Process: an Analogy with Maxwell's Demons.
Paper - Slides
J. Weickert
15
17.12.2013
Christoph Michel
Kass / Witkin / Terzopoulos:
Snakes: Active Contour Models.
Paper - Slides
J. Weickert
16
17.12.2013
Sonja Forderer
Chan / Vese:
Active Contours Without Edges
Paper - Slides
J. Weickert
17
07.01.2014
Mykola Byelytskyy
Grossberg / Nayar:
Modelling the Space of Camera Response Functions
Paper - Slides
O. Demetz
18
07.01.2014
Semih Korkmaz
Turk / Pentland:
Eigenfaces for Recognition
Paper - Slides
J. Weickert
19
14.01.2014
Constantin Berhard
Perez / Gangnet / Blake:
Poisson Image Editing.
Paper - Slides
J. Weickert
20
14.01.2014
Waqar Khan
P. Sen et al.:
Robust Patch-Based HDR Reconstruction of Dynamic Scenes
Paper - Slides
O. Demetz
Pradeep Sen, Nima Khademi Kalantari, Maziar Yaesoubi, Soheil Darabi, Dan B Goldman and Eli Shechtman:
Robust Patch-Based HDR Reconstruction of Dynamic Scenes.
In ACM Transactions on Graphics (Proceedings of SIGGRAPH Asia 2012), Volume 31, No. 6, pages 1-11, 2012.
---